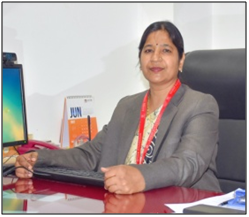 Dr. Gayatri M. Phade

HEAD
Department of Electronics
& Telecommunications
📱 9545453202
📧 gayatri.phade@sitrc.org
Electronics and Telecommunication Engineering is a popular field of study for engineering aspirants as it is a good combination of hard and soft branches like computer plus electronics. A student pursuing Electronics & Telecommunications Engineering can broadly learn about the subgenres of this field viz. VLSI, Embedded Systems with computer programming, Mobile Communication, Networking, Signal Processing, Fibre Optics & Photonics, Automation, Microwave and Television Audio-Video Engineering. This field vastly advances in tandem with the rapid changes in technologies, and finds applications in various important aspects of our lives. At Sandip Foundation, we provide one of the best Electronics and Telecommunications Engineering courses in Maharashtra. Our aim is to provide quality education and make the students employable.
Department of Electronics and Telecommunication Engineering have been established in the year 2008, with an intake of 60 students for UG Course. Department offers Under Graduate, Post Graduate and Doctorate (PhD) program. All courses are approved by AICTE and affiliated to Savitribai Phule Pune University. The Department have well equipped laboratories with advanced software's such as Cadence, TCAD, LabVIEW MATLAB and PROTEUS for the development of projects. It also supports with the essential hardware required for project building. The Classrooms are equipped with latest teaching aids including LCD Projectors.
The teaching faculties in the department are well qualified and keep them updated with the cutting edge technology by attending various conferences, workshops, seminars, training/development programs. Various training sessions are arranged for the students to enhance their technical and soft skills. Department motivates its students to present research papers at conferences in the state, national and international levels and total 473 papers are published by faculties & students at national and international levels. Along with comprehensive academic input, we also encourage the students to carry out projects and gain hands on experience with hardware and software tools. Currently there are 53 patents filed & published by department. USP of the department is 'Project to Product'. Students have developed many products like, 3D Printer, E-bike, E-weather monitoring system, five different models of Vending Machine, Incinerator, in the lab itself, under the guidance of faculties and also received the consultancy of Rs.16,81,450/- for it.
Our faculties have been awarded through various technical events like AVISHKAR, Conferences etc. Department has fetched research grant of Rs.23,80,000/- from various government and non government professional bodies. Our student's projects has been nominated and awarded at various reputed competitions like KPIT Sparkle, Transform Maharashtra, Texas Instrument DST Innovation Challenge, SINE IITB, Kalam Innovation Awards, DIPEX.
Departmental Training and placement cell looks after special Industry Institute linkage through MOU, avails industry visits, internship program, trainings, industry projects, etc. Entrepreneurship development activity is carried out to develop students as an entrepreneur. Many of our alumni have become entrepreneurs and succeed in their business. We focus on overall development of staff and students.
E&TC department runs post graduate course in VLSI & Embedded systems. Department also has Research Center affiliated to Savitribai Phule Pune University, Pune. There are university recognized guides under them 3 Research scholars have been awarded with PhD & 10 Research Scholars are pursuing the PhD. With this, department has nurtured research culture amongst the students.
Objectives:
---
To impart up-to-date technical knowledge and skills and produce well-qualified engineers in the areas of Electronics and Telecommunication Engineering, who will make qualitative difference in this field.
To inculcate in students professional responsibilities to play leadership roles along their diverse career paths and develop the capability to utilize engineering skills in industry, research centers, and national laboratories and in entrepreneurship..
To address social and cultural expansiveness in the cutting edge society according to their prerequisite.
Strengths of the department are:
---
To achieve this objective department have well equipped laboratories, well qualified senior and young dynamic staff having industrial as well as educational experience.
Department is graced with valuable guidance of the Principal as he is a doctorate in Electronics and Telecommunication.
To enhance the skill set of students faculties keeps themselves updated with current technology and industry needs. Senior faculties are resource person for various workshops and conferences in other institutes
Scope for Employment:
---
Fresh graduates of Electronics and Telecommunication engineering find good jobs in their sectors. They can also apply for a job in Central Government, State Governments and their sponsored corporations in public enterprises like All India Radio, Indian Telephone Industries, MTNL, National Physical Laboratories, Civil Aviation Department; Post and Telegraph Department, Co-ordination Department, Bharat Electronics Limited and few other government undertakings
Private companies also offer excellent pay packages to skilled and experienced electronics professionals. Private units dealing with manufacture, sales and services of electronics consumer goods require large number of electronics professionals for their functioning.
Apart from making a career with public or private sector organizations, one can also conduct research work in this field by joining PhD programs offered by several institutions across the globe.
A career as a teacher/professor is another fruitful avenue to explore.